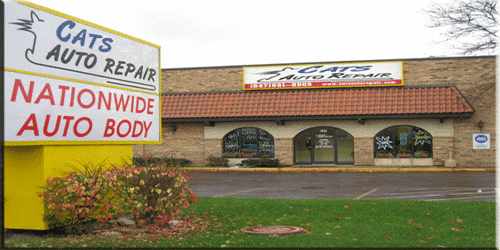 C

ertified

A

utomobile

T

echnicians &

S

ervice
We are a family owned business here to serve our community. With over 100 combined years in the automobile industry you can count on us to provide you with the most professional and best care available. Our technicians are all ASE Certified Technicians who use the latest diagnostic equipment and information systems available. We are brothers and sisters, husbands and wives. Come in and ask questions and hopefully we won't confuse you. You can be assured that you will receive personal, efficient, dependable service and the most reliable value for your dollar at CATS Auto Repair.
Your automotive needs are "Our Driving Force" for service excellence and customer satisfaction. Your vehicle is your prized possession and we, at CATS Auto Repair, respect this fact.
Whether your vehicle needs an oil change or an engine overhaul,selecting a certified facility can be a difficult task, we are here to help!
Cats Auto Repair Premium Customer Service
At Cats Auto Repair Service Center our customers come FIRST!
Here's what we WILL do:
We treat our Customers the way we would like to be treated.
We provide our customers with professional, courteous service.
We provide our customers with clear and accurate estimates.
We perform no repairs without our customer's authorization.
We perform service and repairs professionally using only top quality parts and materials.
We report vehicle safety or repair concerns found during vehicle services.
We won't recommend services or repairs that are not needed.